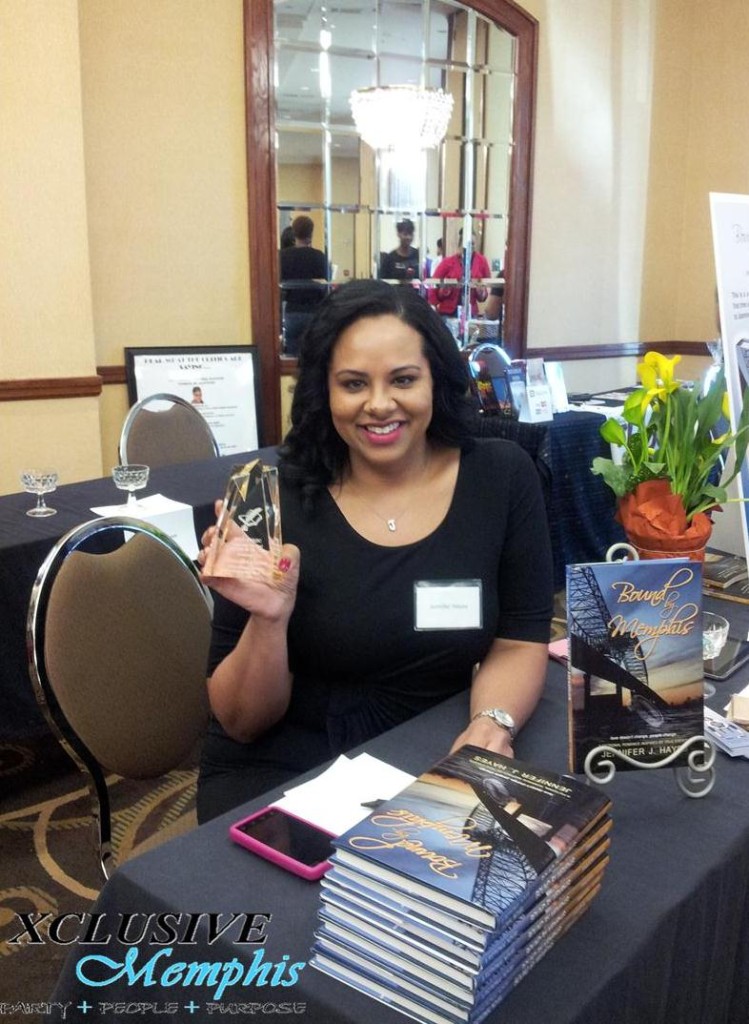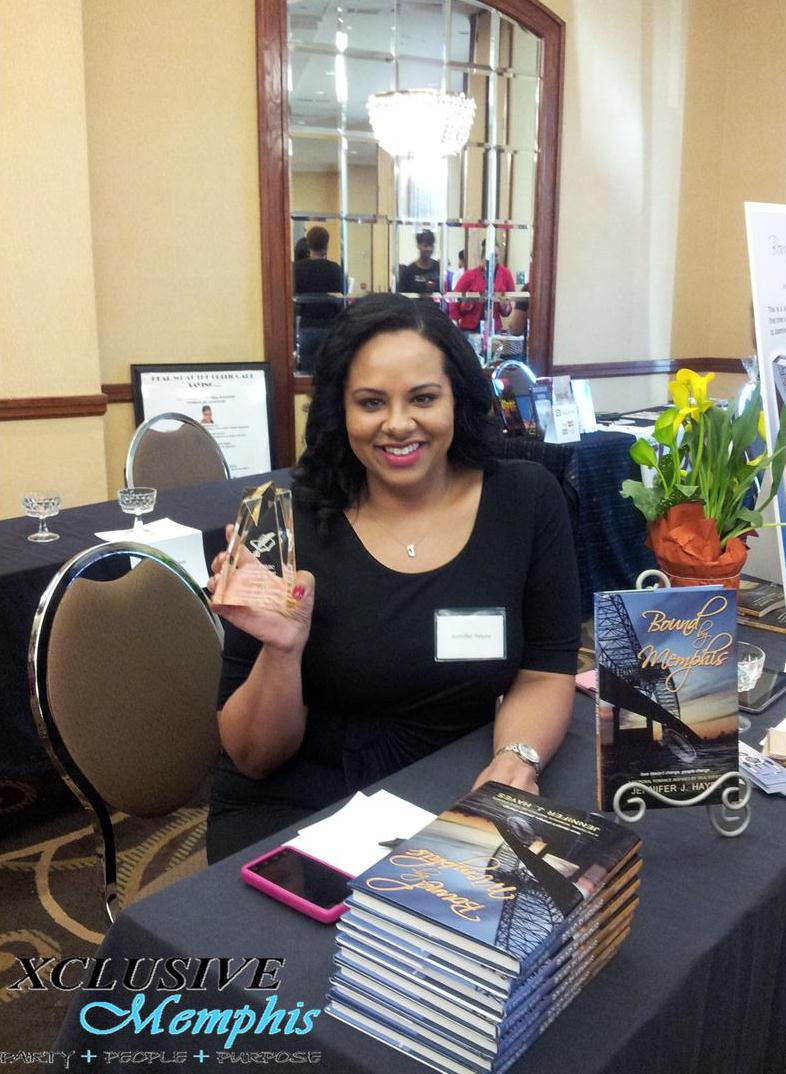 This past weekend Memphis hosted the BWABC Literacy Festival. The awesome event took place over at Hilton Hotel.
Friend to the site,  author Jennifer J. Hayes was presented the 2013 BWABC Literacy Rocks! Award. This award is given to the author who has done the most in promoting literacy within their own community.
Jennifer is the author of 'Bound by Memphis'.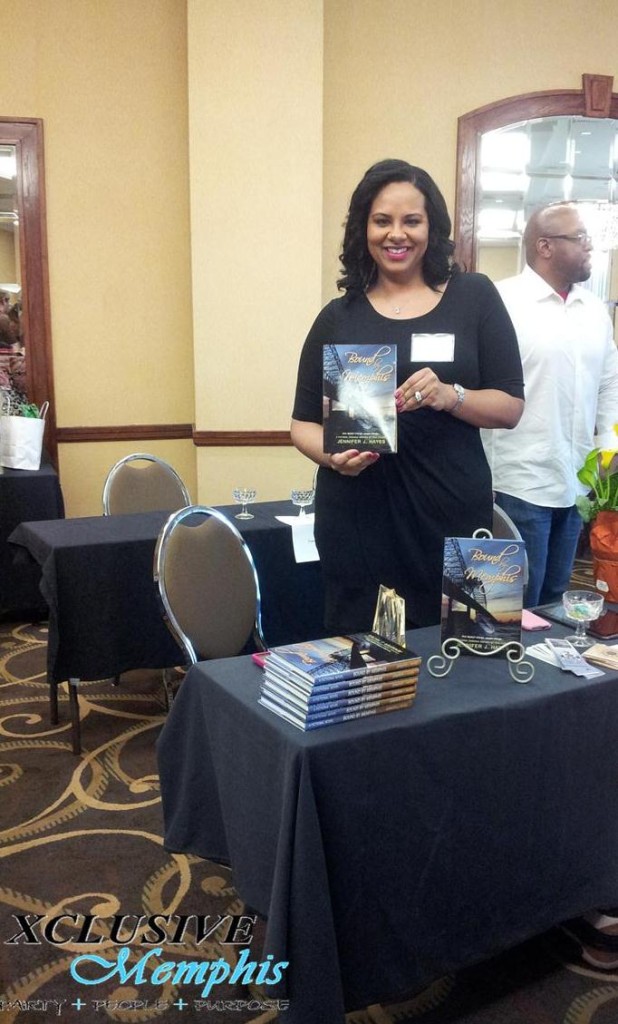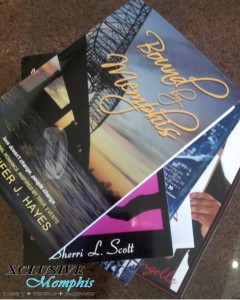 The Blurb
Jasmine Henderson has it all. The perfect husband. The perfect son. The perfect job. However, with all aspects of her life, lined up in flawless array, something begins to stir her emotions, reminding her of the once love of her life that walked away.

Now a successful Public Relations Consultant, Jasmine has built her surroundings to include all that she adores, with one exception… MB. But once Jazz's boss sends her to Memphis, to work on the firm's latest project, she crosses the bridge to her past, a chapter she thought she had closed long ago.

Sneaking out from Jazz' ego is MB's not-so-distant memory… their spark… their passion… their budding life together. He was supposed to be the one. Yet, while Jasmine was blissfully naive and planning their wedding, 14 years ago, MB had a varying agenda. He left, no excuses, no apologies. He was gone.

She's built a new life, outside of Memphis, outside of him. Now in Dallas, with her devoted, wonderful husband, Chauncey, and their son, Manny, Jasmine has the life she has always dreamed about. But, it's about to become rattled.

Once she crosses the bridge to Memphis, everything Jazz knows about herself is in question. Her portal to Memphis serves as an entrance to her former self. While she is fully aware of the love and commitment she has with Chauncey, she can't help but ponder the what-ifs of MB.

While Jazz fearlessly manages all aspects of her abundant and successful life, the retrospect of her former love seems to be the one emotion that's been caged up so long, she's held powerless against it.
Who is Jennifer J. Hayes:
A shameless fan of all things happily ever after, Jennifer J. Hayes has been a lifelong student of romance. She lives how she loves: Over the top! Jen is clearly a woman who wears her heart on her sleeve and isn't ashamed of it. She has traveled the world, as a Military Brat, and is now residing in Houston, Texas, with the two loves of her life: her husband of 8 years, and their 4 year old son. Jennifer is currently working as a marketing director for SinglesPLUS, a successful matchmaking company.  She has been helping her clients find love, for the past 14 years. No one knows the love industry better than she does! Jen enjoys romantic movies, dancing, catching up with friends, over a glass of wine, and her many, many pairs of stilettos. She's not the kind of person who would enjoy taking the same vacation twice, but she fully admits to being able to eat Greek food, every single day of the week. Somewhere in between running a successful marketing firm, hosting a relationship-based radio show– S.W.A.K. Radio, writing her column- Jei, Knows it All, supporting her foundation- I Know How to Read.org, rallying various charity events (her favorites being Heart Disease and Breast Cancer), and being a wife and mother, she managed to fulfill her latest passion in writing her first debut novel, Bound by Memphis.
If you care about the formalities…
Jennifer J. Hayes has a varied educational background in Communications, Education, a Bachelor's in History, and a Master's in Clinical Psychology. She earned both of her degrees from the University of Houston. Her work of published articles can be found in WorldOfLongmire,  RelevantMagazine, and Single Lifestyles Magazine.
I am always on the go, however, I have started reading this book and have not been able to put it down.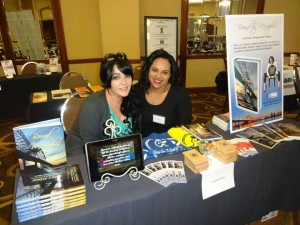 Read more at www.boundbymemphis.com.
Head over to the site here, to order your copy.
Congrats Jennifer on all your success! You Rock!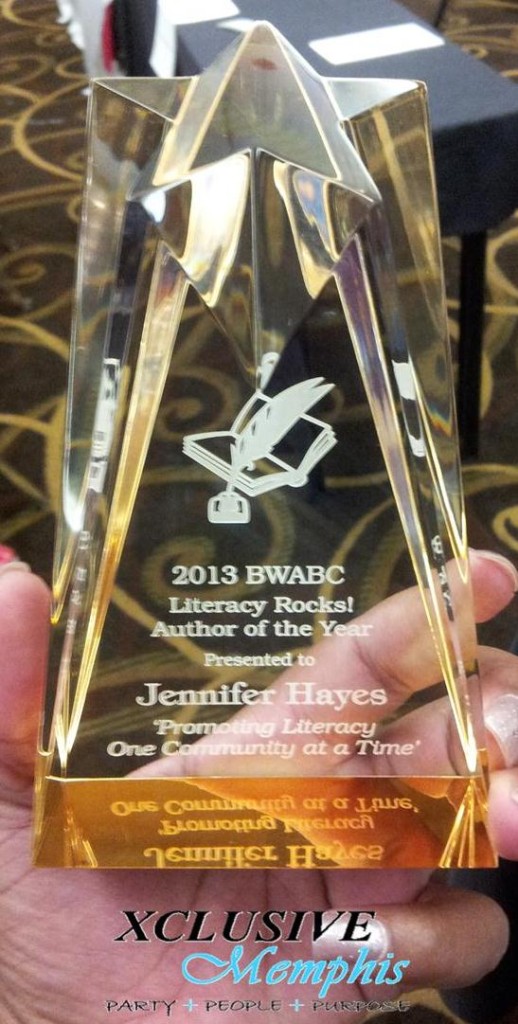 Connect With Us:
Facebook: www.facebook.com/xclusivememphis
Twitter: http://twitter.com/xclusivememphis
Instagram: http://instagram.com/xclusivememphis