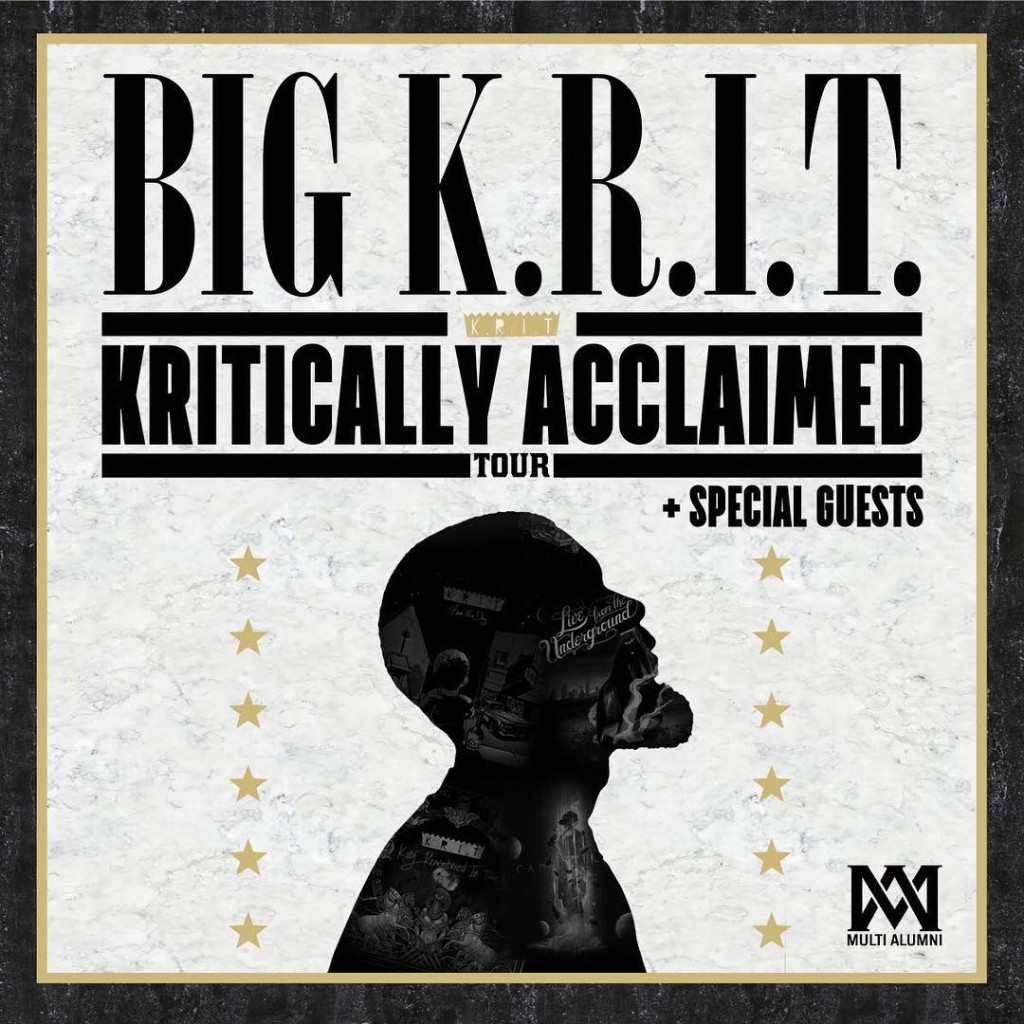 BIG K.R.I.T is headed out on a 39 city tour. The Mississippi born native announced he will be bringing along a few special guests.
Born and raised in Meridian, Mississippi, Big K.R.I.T. has gracefully shouldered the mantle of Southern rap's next great star since breaking out with his 2010 mixtape K.R.I.T. Wuz Here. He was featured on the cover of XXL's annual Freshmen issue in 2011 and hasn't looked back—the mixtapes Return of 4Eva (2011), 4Eva and a Day (2012), and King Remembered in Time (2013), along with his debut album Live From the Underground (2012), have continued to raise the bar.
I am shocked that Memphis was selected as one of the tour stops.
Check out the list of cities and dates below.
Kritically Acclaimed Tour Dates:
10-22 | NORFOLK, VA | The Norva
10-23 | CHARELOTTE, NC | The Filmore
10-24 | RALEIGH, NC | The Ritz
10-25 | CHARLOTTESVILLE,VA | Jefferson Theatre
10-27 | WASHINGTON, DC | The Howard Theatre
10-28 | NEW YORK, NY | Highline Ballroom
10-29 | PITTSBURGH, PA | Altar Bar
10-30 | CLEVELAND, OH | Grog Shop
11-01 | DETROIT, MI | St. Andrews Hall
11-03 | LANSING, MI | The Loft
11-04 | CHICAGO, IL | The Metro
11-05 | COLUMBUS, OH | Park Street Studio
11-06 | LOUISVILLE, KY | Mercury
11-07 | ST. LOUIS, MO | The Ready Room
11-08 | MINNEAPOLIS, MN | First Avenue
11-10 | LAWRENCE, KS | Granada Theater
11-11 | LINCOLN, NE | Bourbon Street
11-13 | DENVER. CO | Cervantis
11-15 | RENO, NV | Knitting Factory
11-16 | SAN FRANCISCO, CA | Slims
11-17 | LOS ANGELES, CA | The Regent
11-18 | SANTA ANA, CA | The Observatory
11-19 | SAN DIEGO, CA | North Park Theatre
11-24 | HOUSTON,TX | Warehouse Live
11-25 | SAN ANTONIO,TX | Alamo City Music Hall
11-27 | DALLAS,TX | Bomb Factory
11-28 | AUSTIN,TX | Emo's
11-30 | NEW ORLEANS, LA | House Of Blues
12-01 | BIRMINGHAM, AL | Iron City
12-02 | TUSCALOOSA,AL | Druid City Music Hall
12-03 | MEMPHIS, TN | Minglewood Hall (tickets and more information here)
12-04 | MERIDIAN, MS | Temple Theatre
12-05 | JACKSON, MS | Hal & Mal's
12-06 | MOBILE, AL | Soul Kitchen
12-08 | COLUMBIA,SC | Music Farm
12-09 | ASHEVILLE, NC | The Orange Peel
12-10 | CHARLESTON, SC | Music Farm
12-12 | MACON,GA | Cox Capitol Theatre
12-18 | ATLANTA, GA | Masquerade
Connect With Us:
Facebook: www.facebook.com/xclusivememphis
Twitter: http://twitter.com/xclusivememphis
Instagram: http://instagram.com/xclusivememphis