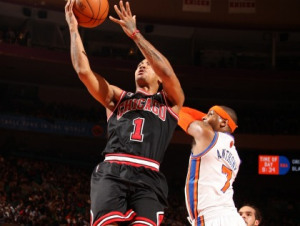 Chicago Bull's number one player is gearing up to return to the court. Derrick sat out an entire season and the Chicago fans are ready to see him back on the court. Derrick Rose was recently asked who is the NBA's best player?
"Derrick Rose," the 24-year-old replied.
Michael Jordan is his basketball idol. His career high light is being draft. His life idol is Malcolm X.
He was also asked who is the toughest person to guard in the league. Interestingly he replied, Lebron the four-time MVP and two-time NBA champion.
Do you agree Derrick is the best in the NBA?
Connect With Us:
Facebook: www.facebook.com/xclusivememphis
Twitter: http://twitter.com/xclusivememphis
Instagram: http://instagram.com/xclusivememphis