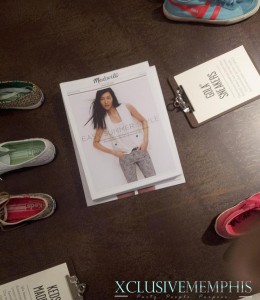 I am not a person who has an eye for fashion. That's what stylist are for, right? However, I know cute pieces when I see them. I have wanted to start a fashion post for some time now, but I could not for the life of me, decide the best way to kick it off.
Fast forward, I recently was invited to a Fashion Insider, by fellow blogger Laura. After the event, I had the idea of starting a Fashion Friday post to share some of the fashion finds, fashion deals, etc.. So here we go.. So stay tuned and check back each Friday for the latest fashion find.
The fashion insider event was held at Madewell's in Saddle Creek. Confessional Time.. Never heard of the store, never been in it, never knew Memphis had one. :/
I was impressed with the fashion pieces, they were all unique and cute. Although, they don't carry plus size; they had a large variety of accessories from backpacks, sandals, bracelets, scarfs, sunglasses and more.
The host Laura, invited out 20 friends, mostly bloggers to check out the store. While shopping we were treated to beverages and Muddy's cupcakes cookies. YUMMY. Love Sweets.
I purchased a few things that were cute and swanky. I enjoyed the store and hanging out with the fellow bloggers. One of the items that caught my attention, was this tank dress. I know, Laura modeled it about 3 times.
It was super cute and looked comy.
Description: The comfort of your favorite tank extended into a slouchy, knee-slit maxi dress. Fitted at waist. Viscose/spandex.
Check out Madewell and visit the store in Saddle Creek in Germantown, TN.
Connect With Us:
Facebook: www.facebook.com/xclusivememphis
Twitter: http://twitter.com/xclusivememphis
Instagram: http://instagram.com/xclusivememphis