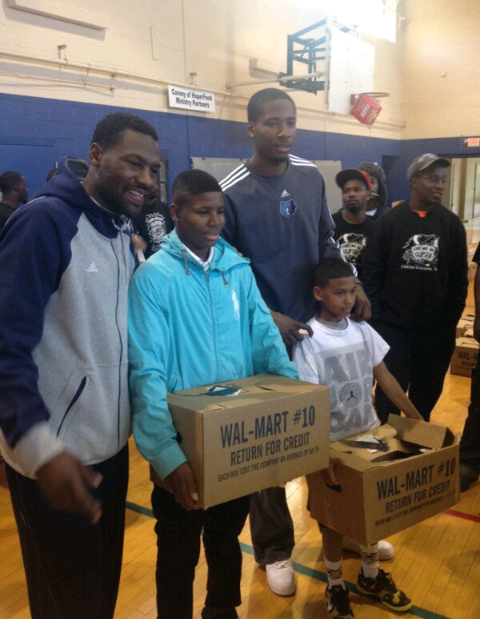 Memphis Grizzlies Players Tony Allen and Ed Davis stepped off the court on yesterday, (November 7, 2013) and out into the Memphis Community. The Grizzlies players were on hand at the Ed Rice Community Center to pass out holiday baskets.
Grizzlies guard Tony Allen and forward Ed Davis gave out food baskets to 500 families for the upcoming Thanksgiving  holiday. The food baskets included turkey, macaroni and cheese, stuffing,  green beans, cornbread and brownie mix.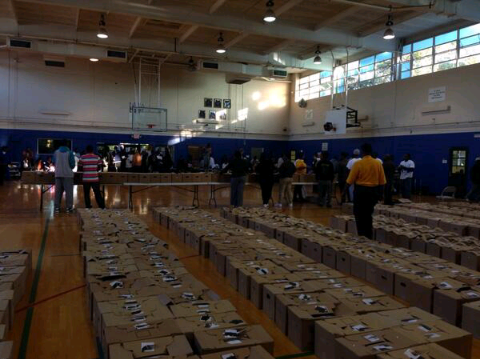 They teamed up with a local Walmart store, the Ed Rice Community Center, InterfaithChurch, Neighborhood Christian Center, and Blight Squad.
"Just being able to help families you know, I think we gave 500 meals so just to be able to help this community this city it goes a long way," said Ed Davis, Memphis Grizzlies forward.
"From growing up in housing authorities and growing up with some Thanksgiving without having a turkey on the stove, you know God has blessed me and I think that's what I was sent here to do," said Tony Allen, Memphis Grizzlies guard.
I am so excited to see the players giving back to families in need. So many families are in need of this holiday season and need a helping hand. Tony Allen is such a humble guy with a great spirit and he is a friend to my site.
GO GRIZZ!
Connect With Us:
Facebook: www.facebook.com/xclusivememphis
Twitter: http://twitter.com/xclusivememphis
Instagram: http://instagram.com/xclusivememphis