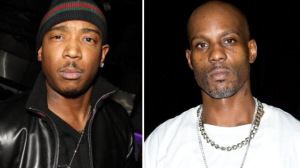 Ja Rule recently was a guest on the Grio. He spoke candidly on how he felt about his friend DMX and his current troubles. DMX has had his far share of troubles from legal battles to child support issues. DMX has been arrested like 20+ times. He has 11 kids by six different women, and 1 more on the way.
"I love X, we got a great history," Ja said to the Grio. "We came up together in this business. It's kind of sad to watch my homie go through what he's going through."
"This is America," he said. "We love to see people bounce back. We love that comeback story. I don't think it's far off for X to come back and do something significant, and people to love him again. I think he just needs to maybe see God. It has to be something drastic that changes the way he lives and the way he goes about his everyday lifestyle. Hopefully he'll realize that what he's doing is destructive."
DMX and Ja Rule were both signed to Def Jam records in the late 1990s and shared a mutual friend in Irv Gotti. They recorded several tracks together during that time including Ja's song "It's Murda" from his debut album Venni Vetti Vecci which also featured Jay-Z.
Sounds like Ja definitely got his head on right, this time around.
Visit NBCNews.com for breaking news, world news, and news about the economy
Connect With Us:
Facebook: www.facebook.com/xclusivememphis
Twitter: http://twitter.com/xclusivememphis
Instagram: http://instagram.com/xclusivememphis