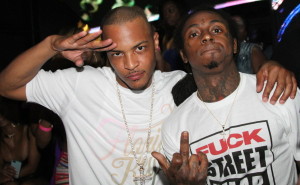 T.I. is currently on tour with Lil Wayne & 2 Chains all over the place. They are selling out in every city they hit.
Charlotte's Power 98 radio caught up with T.I. Backstage and wanted to know his thoughts on a few things. One of the subjects that came up was the Zimmerman trial. T.I. made it perfectly clear, that had it been a member of the Harris family that was murdered; this would be a different type of trial. He tips his hat to the Martin (Trayvon)  family for keeping calm and level thinking. He states 'it's a harsh reminder, of the world we live in."
He also has new music on the way and also states we will see him back on the screen soon.
When asked about him working with Yo Gotti: "We personal partners." "Yo move on his own, he has been heading his own movement quite for some time. He aint the kind of artist that you go sign. It will be more like a joint venture /a merger of two companies coming together for a project to create some synergy."
Check out the full interview:

Photo Credit: Thaddaeus McAdams ExclusiveAccess.Net
Connect With Us:
Facebook: www.facebook.com/xclusivememphis
Twitter: http://twitter.com/xclusivememphis
Instagram: http://instagram.com/xclusivememphis