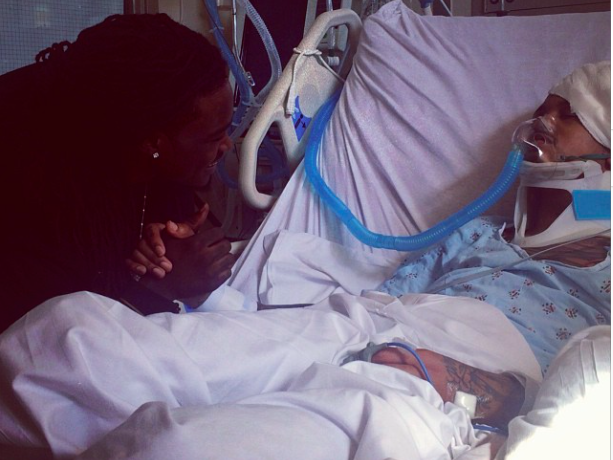 Earlier this week it was reported that singer August Alsina collapsed during his recent concert in NYC. This morning the star took to IG to update his fans on his condition.
He posted the above picture with this caption:
This is a bit graphic but i wanted to share this w/ every follower of mine. iWoke up out of a 3 day coma… &This guy @banggang_moneyteam right here never once left my side. What I'm tryna say is cherish the ones in life who cherish you & take good care of yourself. Your life can be gone in a split second'. I'm recovering well and thankyou for all of your prayers & concerns. -Yung
It is rumored to have hit his head on a barricade and suffered multiple seizures before being taken to the ICU in the hospital.
I originally refrained from reporting this story because I was unsure of how serious he was injured. Based on the above pic, it is pretty serious.
Please keep him in his prayers. Also pray for his family. When I meet him before we had a great conversation and he is a cutie. He was in Memphis for Gotti's bday bash earlier this year. During a conversation he shared with me that he took in his deceased brother's family.
Connect With Us:
Facebook: www.facebook.com/xclusivememphis
Twitter: http://twitter.com/xclusivememphis
Instagram: http://instagram.com/xclusivememphis