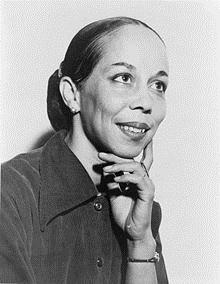 Janet Collins served as an inspiration to many African-American performers.
When it comes to the world of ballet, it can be very easy to forget that Black dancers have a prominent role. In fact, the few Black ballerinas that do get recognition still face discrimination today.
Karyn Parsons, better known as Hilary Banks from Fresh Prince of Bel-Air, wishes to let the world know of this plight by telling the story of Janet Collins, the first Black dancer to perform full-time in the Metropolitan Opera in 1951. With the help of her nonprofit organization, Sweet Blackberry, she has launched a Kickstarter campaign to begin the process of producing a short film detailing Collins' career and the prejudice she endured.
Sweet Blackberry is known for creating animated shorts detailing factual stories about little-known figures in Black history. Two of those shorts include one about Henry Box Brown, a slave who mailed himself to freedom and another about Garrett Morgan, the inventor of traffic lights.
Though she was one of the few classically trained Black dancers in the 1950s, Collins was unable to perform in the Deep South and instead turned to teaching in her later life.  What she is best known for, however, is refusing to perform in whiteface for the Ballet Russo de Monte Carlo at the age of 15.
Upon declining the offer, Collins went to receive many awards, one of which included the Donaldson award for Best Dancer on Broadway in 1951.
"Janet Collins set the stage for an explosion of African American dancers for years to come, paving the way for companies like Alvin Ailey and the Dance Theater of Harlem," Parsons wrote on the Kickstarter campaign's intro page.
Comedian Chris Rock is slated to narrate the story, while 209 backers have contributed $17,839 to the $20,000 goal. Some of those backers include fellow Bel-Air cast members Will Smith, Tatyana Ali, Alfonso Ribeiro and Joseph Marcell.
Michael Rothman reported via ABCNews.com that each contribution increases the chance of an episode featuring the cast being produced along with the short film.
Celebrities are not the only ones required to contribute, reports Breanna Edwards of TheRoot.com.
"I think a lot of times people feel that with something like this … they think, 'I'm not in a position to contribute,' and it doesn't matter. Even if it's $5, just to follow the campaign and achieve exclusive updates on what's going on, for $5 you can get that, for $1 you can get that," she said. "It all matters, it all helps."
Photo courtesy of Wikipedia
Submitted by Melissa W.
Connect With Us:
Facebook: www.facebook.com/xclusivememphis
Twitter: http://twitter.com/xclusivememphis
Instagram: http://instagram.com/xclusivememphis