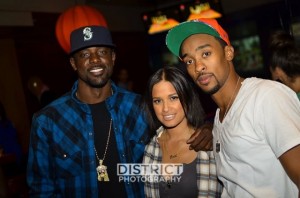 Mr. Lance Gross and many other celebrities  attended Girls with Gifts Charity Event in support of Girls with Gifts.
The organizations mission is  is to cultivate the passions of  young ladies ages 11-18, with emphasis on art, education and  entertainment. Following the mantra, "reach back, pull forward," GWG is an organization focused on changing the world through talented young women, one gift at a time.
The event was held at Lucky Strike Hollywood  out in Los Angeles.
Proceeds from the event went towards Girls with Gifts, Inc. Reach Back Pull Forward Summer Program.
Terrance J., Rocsi,  Estelle, Selita Ebanks, Toccara Jones, Kevin McCall, Alesha Renee and AJ Johnson were also on hand for festivities. Check out their website to see more pics from event (here).
In other Lance News, he was in the M-town this past Friday to host Curtis Given's All Black Affair held at downtown Memphis.
Lance showed up sporting his All Black, but I think he may have been the only person at the party sporting a cap.
I heard it was fun and festive. Good Look CGI.
Connect With Us:
Facebook: www.facebook.com/xclusivememphis
Twitter: http://twitter.com/xclusivememphis
Instagram: http://instagram.com/xclusivememphis