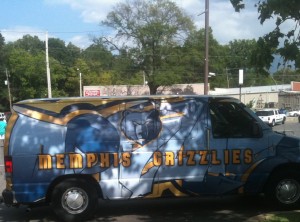 The Memphis Grizzlies has started off the season on top. Not only is there a new owner but the Grizzlies now have something else to rave about.
The Memphis Grizzlies' starting lineup Gay, Randolph, Gasol and guards Mike Conley and Tony Allen have been selected to appear on the ballot for the 2013 NBA All-Star Game, the NBA announced today.
The 62nd NBA All-Star Game will be exclusively televised on TNT from Toyota Center on Sunday, Feb. 17, 2013. The All-Star Game, also broadcast live on ESPN Radio, will collectively reach fans in more than 220 countries and territories in more than 40 languages. NBA All-Star 2013 in Houston will bring together some of the most talented and passionate players in the league's history for a global celebration of the game. TNT will televise the All-Star Game for an 11th consecutive year, marking Turner Sports' 29th year of All-Star coverage. State Farm NBA All-Star Saturday Night will feature the NBA All-Star Shooting Stars, Taco Bell Skills Challenge, Foot Locker Three-Point Contest, and Sprite Slam Dunk.
Other events at NBA All-Star 2013 will include the BBVA Rising Stars Challenge, Sprint NBA All-Star Celebrity Game, and NBA All-Star Jam Session. The 2013 game will mark the third NBA All-Star celebration in Houston. The city also hosted the event in 1989 and in 2006.
Voting is pretty easy,  I just cast mine. Click here to vote for our home team.