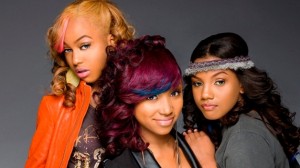 It looks like the cute girl  group 'OMG Girlz' has decided to rename their group, SORTA. The group who consists of Zonnique Pullins (Miss Star),  Bahja Rodriguez (Miss Beauty), and Breaunna Womack (Miss Babydoll) are all young ladies now.
According to SandraRose.com the young ladies have decided to drop 'Girlz' from the groups name. So they will now be referred to as 'OMG'.
Sounds about right. The girls who started the group as pre-teens are now young ladies. The all girl group was formed in 2009. This is a smart move and it makes them more marketable.
Check out the young ladies performing 'Baddie' below:
Connect With Us:
Facebook: www.facebook.com/xclusivememphis
Twitter: http://twitter.com/xclusivememphis
Instagram: http://instagram.com/xclusivememphis