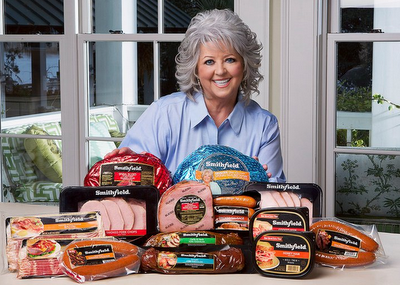 Hey y'all…..Social Media has been buzzing all weekend about Paula Deen's racist comment. This past Friday, The Food Network announced  it would not be renewing her contract. In lieu of the announcement, I made my way to redeem my Paula Deen gift certificate, I had been holding on to it for a while. I was not sure what affect the publicity would have on Paula and surely didn't want the certificate to go to waste.
Well, they say when it rains it pours. I guess it safe to say, it is storming in Paula Deen'e neck of the woods.  Smithfield Foods, a global pork producing company based in Smithfield, Va., has just announced that is it parting ways with Deen.
Keira Lombardo, Vice President of Investor Relations and Corporate Communications, has issued a statement that says:
"Smithfield condemns the use of offensive and discriminatory language and behavior of any kind. Therefore, we are terminating our partnership with Paula Deen. Smithfield is determined to be an ethical food industry leader and it is important that our values and those of our spokespeople are properly aligned."
Paula's face and imaging was used to promoted their Smithfield products on its site and in store.
NOTE: This weekend was my first time dining at Paula Deen's Tunica Buffet. The food was ok, nothing to jump through hoops over. I can say the variety was great, the place was clean, our server was nice (she trying to keep that job) and the dessert bar was the BOMB. I want to also point out the place was packed and we were not the only, African Americans dining there. I guess only time will tell if Paula can with stand the critics and make a come back.
Connect With Us:
Facebook: www.facebook.com/xclusivememphis
Twitter: http://twitter.com/xclusivememphis
Instagram: http://instagram.com/xclusivememphis