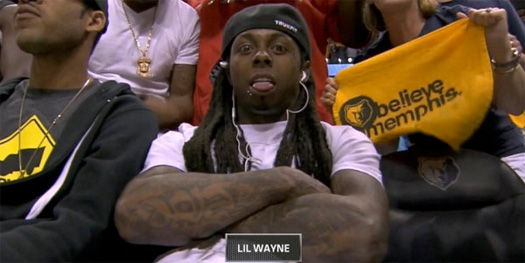 The past Saturday Lil Wayne made his way to Memphis. Although some people are stating he is a OKC fan; he was spotted on Memphis Grizzlies side. Earlier this year Lil Wayne stated that the NBA has banned him from all events Well, that has to be far from the true because he was in the Grind House. Yo Gotti and the CMG along with Music Producer Drumma Boy was also spotted kicking it court side.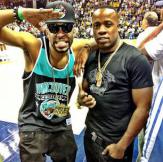 The Grizzlies are handling their Grizzness so no matter who Wayne is rooting for; he saw a great game on Saturday. Maybe he is not going for either team and just wanted to see a good game of b ball.  He enjoyed the love in Memphis. He sent out the following tweet post game:
Oh and in regards to the NBA ban:
"According to TMZ, an NBA representative denied that Lil Wayne has been banned.
Visit TMZ to watch the video of the rapper's NBA rant.
The Grizzlies take on OKC again tonight for round 4. The Grizzlies currently lead 2-1 in the series. Not sure if Weezy is still in town; but it all goes down in the Grind House tonight.
Go Grizz.
Facebook: www.facebook.com/xclusivememphis
Twitter: http://twitter.com/xclusivememphis
Instagram: http://instagram.com/xclusivememphis