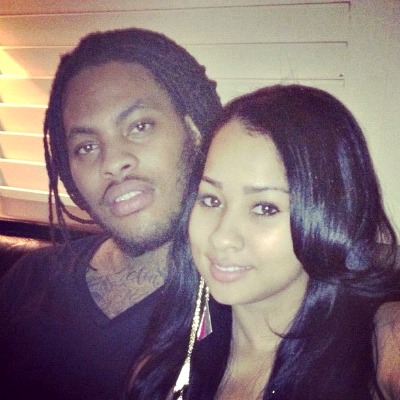 Rumor has it that Waka and his new love interest, Tammy are headed to LHHATL. As you may recall Waka's mom (Deb), who is also his manager has made a few appearances on the popular ATL show. The show has been around for 2 season and has awesome ratings.
Blogs are began to report the news.
Straightfromthea.com reports:
It was rumored that Waka was on the list of LHHATL  candidates for season 1, but Tammy was hesitant about joining the cast, so he  honored her decision not to proceed at that time.

Following suit with the standard theme of Artist,  love interest, parental drama, I can only assume that Waka and Tammy's addition  to the cast will come with the added bonus of extra footage of Miss Deb's choice  curse words.
Do you feel Waka and Tammy are a good fit for the show?
Since they are engaged, do I smell a wedding spin off?
Catch the video below and listen to Waka talk about love:
Clips:
On if he's ready to settle down :

Of course, I'm 27 years old.

On how it feels to be in love:

If I were to tell you what love feels like, I'd be a liar. Cause it's still new every day you wake up. It's a feeling. It's like a holy ghost feeling, man.

In the beginning, you know how it go. You know, I messed up once…twice. Then the second time around I was like, 'Yo, every girl I'm meeting now just want my check.'  Like, they don't even want to meet you. They don't care two cents about what you got going on. Plus, I know her. That became my best friend. So I called her again like, 'Yo, man. I want to go all the way.' She's like, 'Yo, Waka, you still wanna be a boy.' So I had to play the cat and the mouse game and it all worked out. I feel like I'd rather hand her the world, then hand her my hand.

On if he got close to his fiancée through her child:

Her daughter. It grew on me. In the beginning, I was scared of it. I was like, 'I can't date no girl with no baby, I'm still having fun.' Next thing you know, it was my daughter. It just got so…everything she does is cute.

It just makes you become a man. Like, 'Yo, I'm a hero. I can't let her down.' If I'm the man she looks up to in her life, if I let her down, she'll expect that from every man moving forward.
Connect With Us:
Facebook: www.facebook.com/xclusivememphis
Twitter: http://twitter.com/xclusivememphis
Instagram: http://instagram.com/xclusivememphis