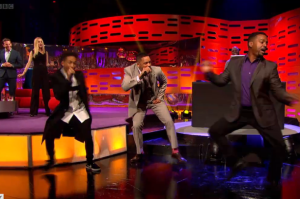 There is no generation like the 90′s in my personal opinion. I can still sit up for hours and watch reruns from various shows. So, it was a treat to see Will Smith and Carlton aka Alfonso Riberio doing the Carlton Dance.
The duo recently stopped by BBC's Graham Norton Show. They are currently promoting their new movie, which will be giving away passes to soon. (After Earth). Carlton made a surprise visit and the audience went crazy.
The video has only been up 4 days and have over 4 million views!
Connect With Us:
Facebook: www.facebook.com/xclusivememphis
Twitter: http://twitter.com/xclusivememphis
Instagram: http://instagram.com/xclusivememphis