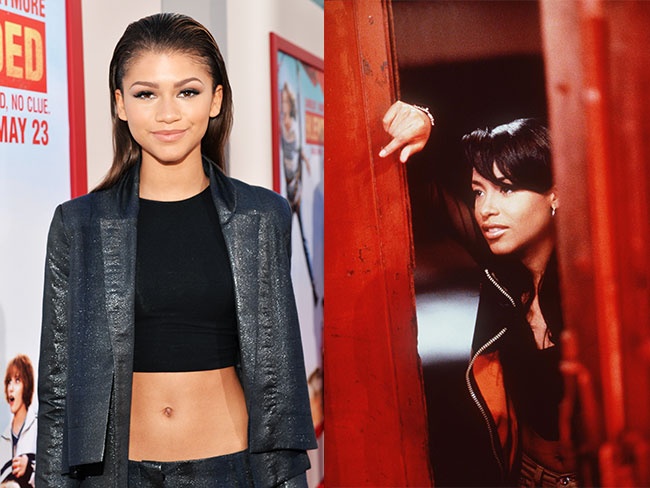 Zendaya Coleman (left) is set to play the late Aaliyah in an upcoming Lifetime movie.
Since the announcement that Zendaya Coleman of Dancing With the Stars fame would star as the late Aaliyah Haughton in a Lifetime biopic, there has been a multitude of mixed reactions on the Internet.
Upon learning of her casting, the 17-year-old Disney star took to Twitter to express her excitement.
"She's been an inspiration and influence in my whole career, her talent still shines brighter (than) ever, all I wanna do is honor her. Show how much she accomplished in only 22 years….she's beautiful inside and there will never be another Aaliyah, I just hope to share her beautiful story, and make her proud up in heaven #babygirl #forever #OneInAMillion."
When asked about the decision to cast Coleman in the biopic, tentatively titled Aaliyah: Princess of R&B, casting director Twinkie Byrd told TheYBF.com that she is a "triple threat."
"Zendaya embodies everything you want in an actress to play Aaliyah. She is a poised, professional, strong actress (studied at California Shakespeare Theater and American Conservatory Theater)," Byrd said. "She is a triple threat actor, singer and dancer. She loves Aaliyah and will do a wonderful job! She is of mixed ethnicity. Her name is Bantu (Zimbabwe) meaning 'To Give Thanks.'"
However, not all of the reactions have been positive. In fact, the most notable reaction as of late has come from the singer's family, who is taking steps to ensure that Haughton will not be portrayed on the small screen in any way.
In fact, according to Barry Hankerson, Haughton's uncle and former manager, the family has already hired a lawyer to block the release of the biopic.
Hankerson told TMZ that while the family is not opposed to a big, theatrical film, they believe a TV movie is "too small for someone as big as Aaliyah."
Kim Osorio of MommyNoire.com cosigned the family's stance on the biopic, stating that "as a mother, I can't imagine anything worse than losing a child."
"Her mom just wants to protect her baby's legacy, and the producers of the film should respect that," Osorio wrote.  "For Lifetime to not have her family make decisions about her story seems straight-up disrespectful, not just to the family, but to us, her fans, as well."
Photo courtesy of MTV UK
Submitted by Melissa W.
Connect With Us:
Facebook: www.facebook.com/xclusivememphis
Twitter: http://twitter.com/xclusivememphis
Instagram: http://instagram.com/xclusivememphis