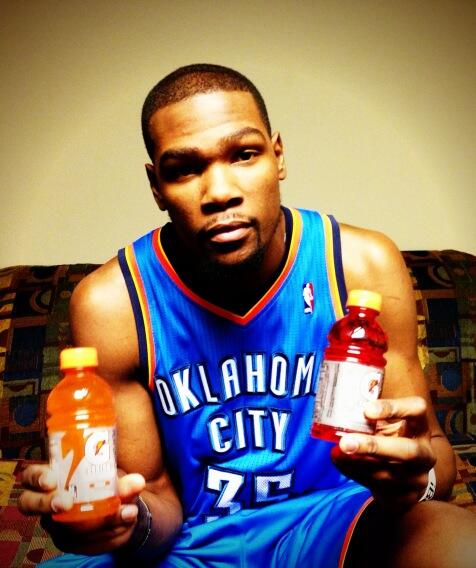 NBA pre-season is well on its way. One of the NBA's greatest players will be missing a few games. Several outlets are beginning to report that MVP Kevin Durant has fractured his right foot.
It was announced yesterday, that he may miss the 1st month of the season due to injury.
Following practice Saturday, Durant informed the Thunder medical staff he was experiencing an "aching" in his right foot. Durant had participated in both the Thunder's preseason games thus far and played a total of 30 minutes.
"We're really fortunate that we're catching it when we're catching it," Presti said. "We are very fortunate that Kevin notified us yesterday and that we're kind of catching it on the front end, before this became more of an acute issue."
"Because it's a stress injury, it happened over time," Presti said. "The fact that Kevin mentioned it when he did is a real fortunate piece of this because if he had continued to play on it, it would continue to get worse. So, that it was identified when it was identified and that the pain or achness was enough to mention it is a positive."
I'm sure Kevin will bounce back quickly and be on the court in no time.
Get Well Wishes to the big man.
Connect With Us:
Facebook: www.facebook.com/xclusivememphis
Twitter: http://twitter.com/xclusivememphis
Instagram: http://instagram.com/xclusivememphis