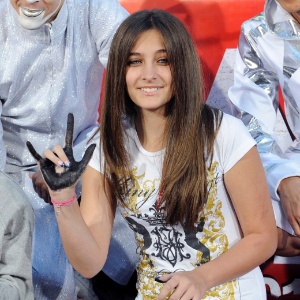 The daughter of the late Michael Jackson has been rushed to a local hospital. Reports have surfaced that 15 year old Paris Michael Katherine Jackson was taken to the hospital after a suicide attempt.
According to TMZ, Paris was taken out of her Calabasas family house on a  stretcher at around 2 AM and taken by ambulance to a nearby hospital.
A 911 call came in around 1:27 AM. and the caller stated Paris had cut her  wrists.
Debbie Rowe, tells Entertainment Tonight that Paris, 15, was "rushed to the hospital with cuts on her wrist." Rowe tells ET that Jackson has had "a lot going on (lately)."
USA TODAY: "Being a sensitive 15-year-old is difficult no matter who you are. It is especially difficult when you lose the person closest to you. Paris is physically fine and is getting appropriate medical attention. Please respect her privacy and the family's privacy."
ET also reports that the teen was ticked off about not being able to go to a June 6 Marilyn Manson concert.
Rowe's lawyer, Eric George, issued a statement to USA TODAY that said, "We appreciate everyone's thoughts for Paris at this time and the respect for the family's privacy."
This is also the month that her dad died,  June 25, 2009.
Prayers with the Jackson family.
Connect With Us:
Facebook: www.facebook.com/xclusivememphis
Twitter: http://twitter.com/xclusivememphis
Instagram: http://instagram.com/xclusivememphis