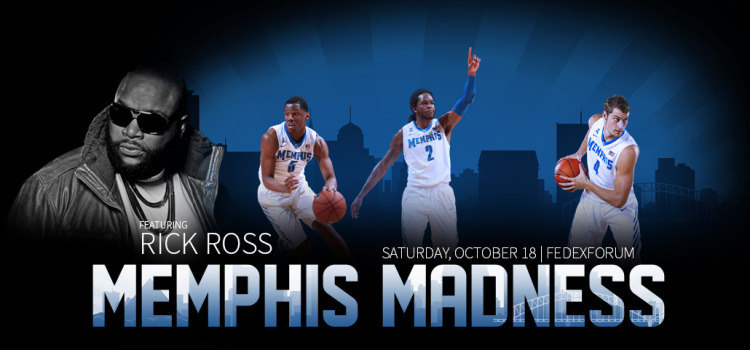 Memphis Ricky Rozay is headed to the city for 2014 Memphis Madness. Yesterday, the Tigers dept announced that Ross will be the half time performer.
All the action will take place in downtown Memphis, Saturday, Oct. 18. This is the Tigers annual basketball preseason celebration at FedExForum presented by Ashley Furniture.
"I love Memphis Madness because it means basketball season is almost here," men's basketball coach Josh Pastner said. "It's also a great opportunity for us to showcase Tiger Nation as the best fans in college basketball to our new players and recruits. We're excited to add Rick Ross to this year's event and look forward to introducing the 2014-15 Tigers to our fans."
A ticket will be required to gain admission to Memphis Madness once again this year. Tickets are $5 for all seating sections and will go on sale to the general public on Monday, Oct. 6 at 10 a.m. (CT). Tickets can be purchased online at gotigersgo.com or in person in the Athletic Ticket Office at 570 Normal Street in Memphis.
Tickets will also be available for purchase at select Memphis-area Wingstop locations (Winchester, Poplar, Union, Bartlett, and Southaven) beginning Monday at 11 a.m. (CT). Individuals will be allowed to purchase a maximum of six tickets.
Ross was supposed to perform at Memphis Madness in 2011 but he fell ill in route to Memphis.
Ross had a few seizures on a plane while traveling to Memphis to perform at a college basketball kickoff.
The Miami-based artist's private jet to Tennessee was forced to land in Birmingham, Ala., when he suffered a seizure, NBC station WTVJ of Miami reported. It was the second time in six hours a plane carrying the performer diverted due to concerns over his health.
Gotti performed in place of Ross that year. I guess we will finally get that show from a healthier and slimmer Rick Ross.
Connect With Us:
Facebook: www.facebook.com/xclusivememphis
Twitter: http://twitter.com/xclusivememphis
Instagram: http://instagram.com/xclusivememphis