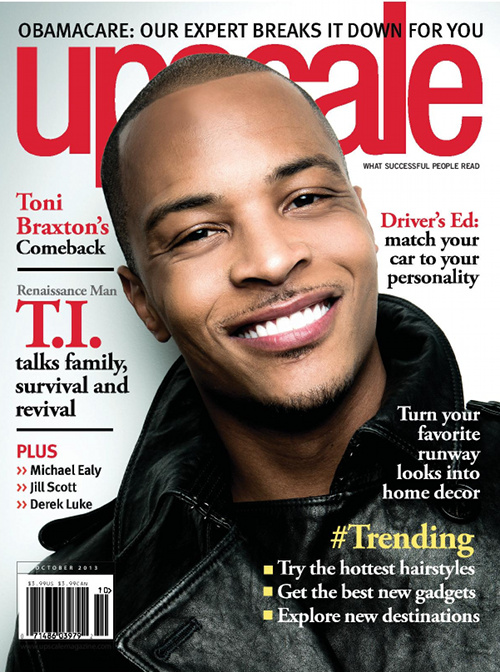 It's the King homie. T.I. the King of the south is covering the October issue of Upscale Magazine.
In the interview he opens up about his reality show venture and how Warner Chapel refused his offer.
First he explains how he asked Warner Chapel, his music publisher for $7 million dollars and they refused.
"They said, 'Nah, no.' And I said, 'Ok, cool' and we walked away amicably. And now the Robin Thicke record was the number one record in the world and I am the sole publisher because they didn't want to cash me out. So thank you, Warner Chapel."
Then he spoke about being known more these days for being a father.
"I guess a lot of things I've done in my career that I've gained attention for I wouldn't have never really concluded that would've been a probable outcome… I guess [being known for being] a husband and a father is better than the guy with the machine guns and silencers."
On turning down a million dollar record deal.
"I get that from The Family Hustle and we're not even talking managers cut, that's just me—not Tameka—that's just what I'm getting," he stresses, making sure his point is felt. And it is. "I can get that on my own, I can get that on tour."
Grab a copy at your local newstand and check out the full story.
Here is the latest collaboration with Yo Gotti & T.I. (Explicit):

Connect With Us:
Facebook: www.facebook.com/xclusivememphis
Twitter: http://twitter.com/xclusivememphis
Instagram: http://instagram.com/xclusivememphis