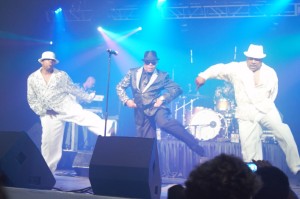 Minglewood Hall was packed July 5, 2013. It seemed like everyone who wasn't at the Essence Festival in New Orleans was there to see the Funk Masters, the Bar-Kays!
Memphis's own comedian and radio personality Prescott opened the show with laughter. He had us rolling in the aisles! This only prepared us for the main attraction.
The crowd was on its feet from beginning to end grooving to fan favorites such as Anticipation, Freak Show, Holy Ghost, Unforgettable Dream and more. We were also treated to the new joints like Grown Folks and Return of the Mack.
Special tributes were given to Otis Redding, the man who first recognized the talent of the Bar-Kays. Most of the original Bar-Kays were killed in a plane crash with Otis, but because he was not on that flight, James Alexander survived to continue the legacy. Special tribute was also paid to native Memphian and Soul Brother Isaac Hayes.
The good times didn't stop after the show. The band autographed new CDs and 30 Year commemorative booklets in the lobby. After the autograph session, they moved to the after party which was hosted by show host "The Bellringer" Stan "The Man" Bell and DJ Boogaloo and didn't end until the wee hours of the morning.
Photo Credit: Mino Dillon, Mino's Creations (www.minoscreations.com)
Sidenote: If you follow my social media accounts, you know I was in New Orleans this past weekend. While back in Memphis, TN the Bar-Kays was set to take the stage. I couldn't resist getting coverage on this epic performance. My good friends Nina and Nona Allen was gracious enough to attend in my absence and report back on the legends.
Connect With Us:
Facebook: www.facebook.com/xclusivememphis
Twitter: http://twitter.com/xclusivememphis
Instagram: http://instagram.com/xclusivememphis