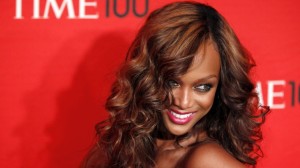 Tyra Banks can soon re-add "daytime television host" to her resume.
Nellie Andreeva of Deadline.com reported on May 30 that the supermodel-turned-host of America's Next Top Model is slated to return to the small screen in a syndicated lifetime talk show in 2015.
The show, which is unnamed at the moment, will tackle a multitude of issues such as fashion, beauty, entertainment, empowerment and individual enterprise. Celebrities, experts, internet influencers and everyday people will appear to lend expertise in what is believed to be a source of daily takeaway that is "innovative, informative and accessible." It will be produced by Disney-ABC's Summerdale Productions and distributed by Domestic Television, with Banks as executive director.
This will be Banks' second talk show, following the cancellation of The Tyra Show in 2010, which netted her two Daytime Emmys and a GLAAD Media Award nomination.
In a press release on Disney-ABC Domestic Television's website, president Janice Marinelli praised Banks, referring to her as a "enormous and vibrant talent with widespread appeal."
"We're eager to introduce her new lifestyle show that will incorporate her personal message of self-confidence to the syndication marketplace," she said.
Lisa Hackner, executive vice president of Daytime & Syndicated Programming at the ABC Entertainment Group, echoed Marinelli's statement, saying that "Tyra is truly unique in that she is both aspirational and extremely relatable to women of all ages,"
"With an extraordinary social media following and legions of fans built over her years on television, Tyra is more relevant than ever," Hackner said. "She is the ideal personality to infuse lifestyle content with fresh energy, humor, and the practical information the daytime audience craves."
From her decade-long executive producing and toplining ANTM, as well as the recent greenlighting of her new docuseries, Banks' elation seems to be nothing short of palpable.
"I'm excited to be partnering with Disney-ABC to usher in a new era of lifestyle, beauty and entertainment that will inspire women to be the CEO of their lives via honesty, humor and the newest tips and tricks without being intimidating or precious," she said. "To my fierce fam of future viewers: I can't wait to shake up daytime TV together. I have a lot of information to give and still lots to learn. Let's do it!"
Photo courtesy of Reuters
Submitted by:
By Melissa Wray
Connect With Us:
Facebook: www.facebook.com/xclusivememphis
Twitter: http://twitter.com/xclusivememphis
Instagram: http://instagram.com/xclusivememphis