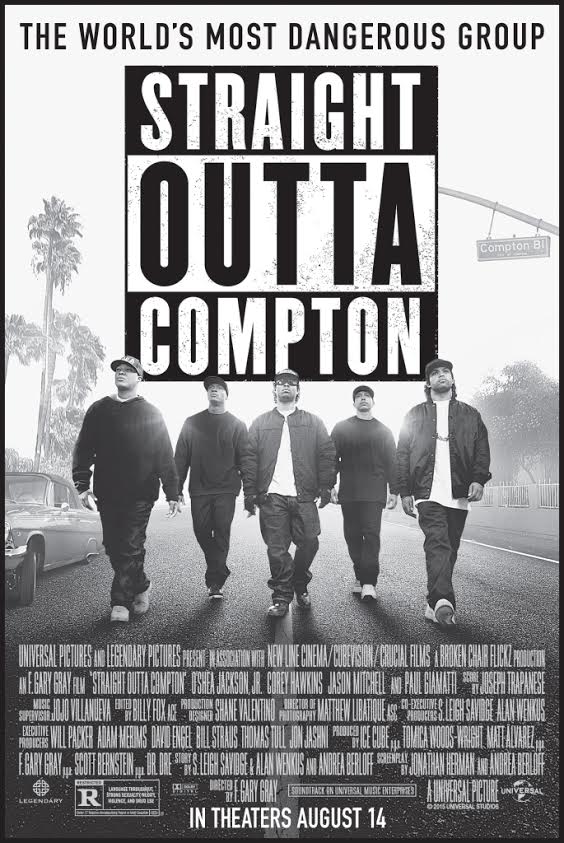 STRAIGHT OUTTA COMPTON (Universal Pictures)
Release Date: Friday, August 14, 2015
Genre: Drama
Rating: R (Restricted – Under 17 Requires Accompanying Parent or Adult Guardian) for language throughout, strong sexuality/nudity, violence, and drug use.
Run Time: 147 Minutes
Cast:  O'Shea Jackson Jr., Corey Hawkins, Jason Mitchell
Director: F. Gary Gray
Synopsis:  In the mid-1980s, the streets of Compton, California, were some of the most dangerous in the country. When five young men translated their experiences growing up into brutally honest music that rebelled against abusive authority, they gave an explosive voice to a silenced generation. Following the meteoric rise and fall of N.W.A., Straight Outta Compton tells the astonishing story of how these young men revolutionized music and pop culture forever the moment they told the world the truth about life in the hood and ignited a cultural war.  Starring O'Shea Jackson Jr., Corey Hawkins and Jason Mitchell as Ice Cube, Dr. Dre and Eazy-E, Straight Outta Compton is directed by F. Gary Gray (Friday, Set It Off, The Italian Job).
The drama is produced by original N.W.A. members Ice Cube and Dr. Dre, who are joined by fellow producers Matt Alvarez and Tomica Woods-Wright. Will Packer serves as executive producer of the film alongside Gray.
Xclusive Memphis will be attending a advance screening this week with a few lucky readers; be sure to check back for recap.
Connect With Us:
Facebook: www.facebook.com/xclusivememphis
Twitter: http://twitter.com/xclusivememphis
Instagram: http://instagram.com/xclusivememphis