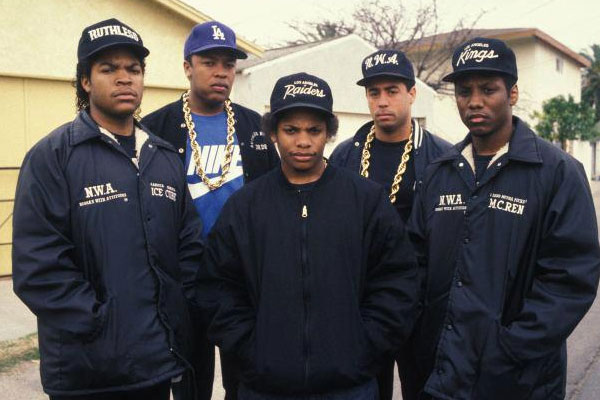 Earlier this week, Xclusive Memphis hosted an advance screening of the new hit movie 'Straight Outta Compton'. Although, I consider myself an entertainment junkie my hip hop card was very questionable that night. I kept asking questions that some thought I should have already have known.
Sigh…..Disclaimer: Don't judge me after you read this… I honestly didn't know. lol
1) I had never heard of Ruthless Records. – Ruthless Records is an American record label, founded by Gangsta rapper Eazy-E in Eazy's hometown ofCompton, California in 1986.
2) I did not know that originally Eazy E funded the money behind the group. He was never a rap artist. – After dropping out of high school in the tenth grade, he supported himself primarily by selling drugs before investing in Ruthless Records and becoming a rapper.
3) I did not know that singer Michel'le was affilaited with Rutheless Records. – Michel'le was signed to Eazy-E's Ruthless Records. In 1989, she released her self-titled debut album, produced entirely by then-boyfriend.
4) I knew nothing about the Ice Cube and Eazy E. beef. – Ice Cube left N.W.A in December 1989[4] due to financial issues.[5] The remaining group members fired the first shots by insulting Ice Cube on the two albums they recorded after his departure.
5) I did not know that Suge Knight started as just a bodyguard. – After college, Knight was not drafted by an NFL team, but was cut during training camp by the Los Angeles Rams. However, he became a replacement player during the 1987 NFL players' strike, and played two games for the Rams.[6] Later, he found work as a concert promoter and a bodyguard for celebrities including Bobby Brown.
6) I did not know that Dr. Dre's brother got killed while he was on tour. – Tyree had been attacked by a group of guys outside a store and they had broken his neck in the scuffle.
7) I did not know the group was arrested for inciting a riot in Detriot after bening told not to do the song "F*ck The Police'. – NWA performed their infamous song F*ck The Police and the Police Department decide to crash the stage and arrest the group.
8) I did not know Dr. Dre was a DJ first. – He subsequently became a DJ in the club, initially under the name "Dr. J", based on the nickname of Julius Erving, his favorite basketball player.
9) I did not know Ice Cube wrote the movie 'Friday'. – Friday is a 1995 American stoner buddy comedy film directed by F. Gary Gray in his directorial debut, and also written and narrated by Ice Cube, who also stars in the film.
10) I did not know Eazy E. signed Bone Thugs-n-Harmony. American West Coast rapper Eazy-E, former member of rap group N.W.A, signed Bone Thugs-n-Harmony to Ruthless Records in late 1993, when Bone Thugs debuted with their EP Creepin on ah Come Up. The EP included their breakout hit single "Thuggish Ruggish Bone".
You done laughing at me? Check out the trailer below and be sure to keep track of the number of things you learned from the new movie.

Connect With Us:
Facebook: www.facebook.com/xclusivememphis
Twitter: http://twitter.com/xclusivememphis
Instagram: http://instagram.com/xclusivememphis