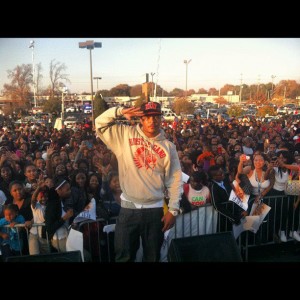 On Tuesday, Memphis got a first hand dose of Reality TV. The King of the South made his way through the Mid-South. He was in town for a FREE concert. Attendee were asked to donate food and toys for those less fortunate this holiday season. The King of the South drew a crowd of about 5,000 and halted traffic in the Whitehaven area, during his appearance.
The concert and Memphis appearance was filmed for the Season Finale of The Harris's show "The Family Hustle".  Memphis Clear Channel Station K-97 and the Memphis Food Bank was key in the event. It was truly a family affair as the whole Harris gang was in attendance for the mini concert/food-drive.
In addition to The King of the South bringing the city out. He was also presented with a KEY to the city of Memphis on behalf of local politicians and Mayor A.C. Wharton, who was on hand for the ceremony.
Well T.I. I guess there is only one thing left to say "Welcome to my City" (in my Drumma Boy voice).
Since T.I. brought out the city of Memphis; It was only right I included a throwback. Enjoy.
Photo Credit: Mike Brown/The Commerical Appeal